Steve Hurlbut Memorial Award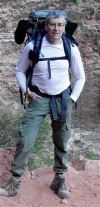 Established in 2011, this Award is in memory of the late Steve Hurlbut of Dartmouth, who passed away suddenly on October 10, 2010. Steve was a valued long-time member and cherished friend of the Dartmouth Whalers Masters Swim Club ("DWMSC"). Steve was enthusiastic about sports and generously shared his love of athletics with everyone – from beginner to elite. He was of humble and kind spirit and enjoyed all things "sociable!". Steve's commitment to the club included volunteer service as the club's faithful registrar for 19 years.
The Steve Hurlbut Memorial Award recognizes a Dartmouth Whaler who represents Steve's enthusiasm for sport, commitment to the club, volunteer efforts, team spirit and enjoyment of all things sociable.
To nominate a fellow swimmer to please fill out a nomination form found in your email and submit it to our President at president@dwmsc.com before April 30th.
James Mattatall Memorial
Elaine Mattatall is a long time pillar of the club. She tragically lost her son in December 2011.
The following is the link to the memorial page.